Shopping Cart
Your Cart is Empty
There was an error with PayPal
Click here to try again
Thank you for your business!
You should be receiving an order confirmation from Paypal shortly.
Exit Shopping Cart
Thanks to all of you for checking out my blogs!  I am stepping them up a notch to fulfill my dream of everyone throughout the world being Happy and Having Joy in life!  I am starting to  post & share simple keys that are helping my life to be filled with joy and hoping that somehow it will help you!

Introductory:
     Instant Emotion & Body Balancing
Healing With The Power Of    Your Own Mind….
It's so Fun & Easy!
After going to session after session using many different modalities, and clearing the same thing over and over, and after asking the question if I didn't have access to a healer or products, how could I help myself and others, the thoughts started coming that created this amazing system.  It is my greatest desire to help others to be self-reliant and to help raise the consciousness of humanity by sharing this fun-filled information and these secret keys.  Having a world of Peace, Happiness and Joy is what I am NOW experiencing.  Are You?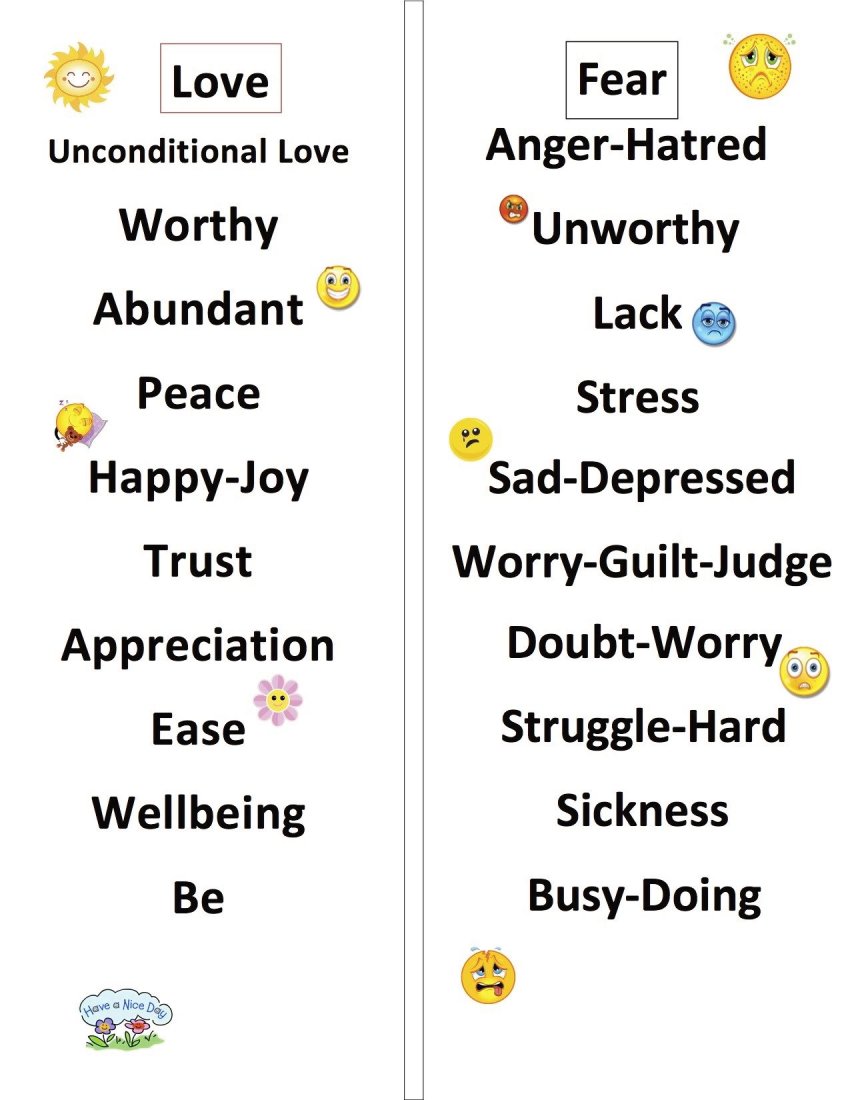 Is your New Years resolution Fat loss?  I am going to post ideas to help you with your success!  
Mind set is the biggest key to your success!  Soooooo, remember in some of the previous posts I have talked about the Law of Attraction?  Let this Love and Fear chart be your new stick up on your fridge.
So FEAR is why we are holding onto fat.  If we are focusing on any of the feelings on the FEAR side that is ALWAYS what we will get more of!!!  Sucks huh, but an absolute fact!
Just like learning to control our hand while learning to write it is essential for us to learn to control our mind.  If we have a feeling of fear, we need to quickly choose differently and focus on feelings of LOVE and appreciation.  It helps me feel good instantly!!!!!
Remember you get more of what you think about so practice with this and love yourself, your fat, everything about yourself!  Be gentle and easy with yourself and find every reason to HAVE FUN in whatever you are doing.
Wishing you the very best year ever!!!
Pennie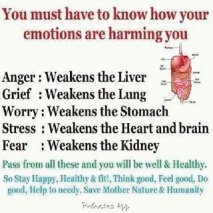 EMOTION ADDICTION
By Vern A. Cox (28 years as a pychotherapist)
"Whenever we feel an emotion, our body spurts out hormones, neurotransmitters, and brain chemicals.  When we spend a lot of time in a certain emotion, our bodies become accustomed to this particular chemical bath.  If our bodies aren't experiencing this familiar set of chemicals, we become uncomfortable and will even suffer withdrawal symptoms.  Thus, we can literally and physically become 'addicted' to anger, fear, depression or even JOY!  It's a choice…"
We know from brain research that all healing in the body is regulated by the brain. This has repeatedly been confirmed by many studies, including those on antidepressant drugs, which have consistently failed to outperform the placebo. What's so encouraging about all this is that we are in charge of our brain. The brain carries out our instructions in the form of beliefs and expectations, positive and negative, conscious and subconscious. In one expression, we are what we believe. So, perhaps, it's now time to change the way we think about the power we have over our own healing ability.
Article Source:
http://EzineArticles.com/6106287
I once saw a live ultrasound image where a cancerous bladder tumor, the size of a grapefruit, completely disintegrated and vanished during a 15-second sound-energy-healing session by a group of Chinese Qigong masters. Of course, without the patient's hopeful and receptive expectation that healing would occur, nothing would happen. Nobody can enter your home as long as you keep the door closed.
Article Source:
http://EzineArticles.com/6106287
The mind/body/spirit triad connection is clearly demonstrated in the now thousands of cancer patients who experience spontaneous remissions of their cancers. Research has shown that the size of a tumor can be reduced dramatically within a few hours of holistic health treatment, when the patient is highly motivated by personal development. Perceiving a spiritual purpose in the disease that affects them, can also be enough to achieve remission.
Article Source:
http://EzineArticles.com/6106287
"Men and women are not prisoners of fate, but
only prisoners of their own minds. - Franklin D. Roosevelt
YOUR BODY BELIEVES EVERY WORD YOU SAY
By Barbara Hoberman Levine
 Being responsible for your health does not mean blaming yourself.  Being responsible does mean accepting yourself and then doing what's appropriate to help yourself – be it taking medicine or acting in new ways."
"We face many choices in the course of a lifetime.  We may not always be able to choose our circumstances.  But we have freedom to choose how we feel about those circumstances." 
"Thinking and speaking like a victim discourages healing.  You change your experience by first recognizing the role your emotions, thoughts, and speech play in inducing disease.  Your body's innate wisdom knows how to heal itself."
"Fear acts as a magnet for negative experiences.  Focusing too much attention on avoiding something really puts energy into what you don't want."
"Words are mental things which we embody with meaning.  If our words and thoughts can make us ill, they can also make us well."
My wish for you is for you to have the Happiest Ever After Possible!  I know you can do it!
Pennie

5 Things Super Successful People Do Before 8 AM          
1. Exercise. I've said it once, I'll say it again. Most people that work out daily, work out in the morning. Whether it's a morning yoga session or a trip to the gym, exercising before work gives you a boost of energy for the day and that deserved sense of accomplishment. Anyone can tackle a pile of paperwork after 200 ab reps! Morning workouts also eliminate the possibility of flaking out on your cardio after a long day at work. Even if you aren't bright eyed and bushy tailed at the thought of a 5 am jog, try waking up 15 minutes early for a quick bedside set of pushups or stretching. It'll help wake up your body, and prep you for your day.
2. Map Out Your Day. Maximize your potential by mapping out your schedule for the day, as well as your goals and to dos. The morning is a good time for this as it is often one of the only quiet times a person gets throughout the day. The early hours foster easier reflection that helps when prioritizing your activities. They also allow for uninterrupted problem solving when trying to fit everything into your timetable. While scheduling, don't forget about your mental health. Plan a 10 minute break after that stressful meeting for a quick walk around the block or a moment of meditation at your desk. Trying to eat healthy? Schedule a small window in the evening to pack a few nutritious snacks to bring to work the next day.
3. Eat a Healthy Breakfast. We all know that rush out the door with a cup of coffee and an empty stomach feeling. You sit down at your desk, and you're already wondering how early that taco truck sets up camp outside your office. No good. Take that extra time in the morning to fuel your body for the tasks ahead of it. It will help keep your mind on what's at hand and not your growling stomach. Not only is breakfast good for your physical health, it is also a good time to connect socially. Even five minutes of talking with your kids or spouse while eating a quick bowl of oatmeal can boost your spirits before heading out the door.
4. Visualization. These days we talk about our physical health ad nauseam, but sometimes our mental health gets overlooked. The morning is the perfect time to spend some quiet time inside your mind meditating or visualizing. Take a moment to visualize your day ahead of you, focusing on the successes you will have. Even just a minute of visualization and positive thinking can help improve your mood and outlook on your work load for the day.
5. Make Your Day Top Heavy. We all have that one item on our to do list that we dread. It looms over you all day (or week) until you finally suck it up and do it after much procrastination. Here's an easy tip to save yourself the stress – do that least desirable task on your list first. Instead of anticipating the unpleasantness of it from first coffee through your lunch break, get it out of the way. The morning is the time when you are (generally) more well rested and your energy level is up. Therefore, you are more well equipped to handle more difficult projects. And look at it this way, your day will get progressively easier, not the other way around. By the time your work day is ending, you're winding down with easier to dos and heading into your free time more relaxed. Success!
My wish is for you to be more successful than ever!
Pennie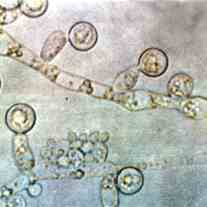 Everyone has this parasite and if it gets out of control you may be suffering from: 

* fatigue
* depression
* food cravings - sugar = wt. gain
* digestion problems
* skin rashes
* lupus
* more, more, more...ASTONISHING VIDEO BELOW
This is in reference to candida and yeast as well as parasites.  On my website you can also buy a higher quality probiotic and specific targeted products to easily aid in:
bladder infections - urinary group
candida and yeast - fungus
amoeba parasites.......in the book "How I Conquered Diabetes" by Kathleen Cole, sold on my website it says that parasites are at the root of every disease!
These parasites are already in your gut but get out of balance by foods we eat. These parasites are able to travel up into your eyes and brain - can you imagine what havoc they create there???  From my research I can say that the information presented in the video is accurate (they list their many resources at the end of the video) and of greatest importance.
Please take the time to watch the video as it could be the answer you're looking for to solve the problems you have been struggling with.
I Love this video.  It is so vital to our health!
I have found Advanced Naturals have far better quality with 15 more probiotics - no auto-ship. You can order on my website......

My wish for you is that you will always be healthy and happy!
Pennie
My husband had a panic/anxiety attack the other night while driving.  Thanks goodness it was on our quiet road in the country.  He pulled over for a few minutes to regain his ability to drive.  When he got home he was still white and he had very little strength in any part of his body.
I am very fortunate to have an energy device that helps the body be balanced.  Through that energy we discovered that an aspartame detox would help balance his body.  I asked him what he had been drinking and eating and he had started drinking a new protein supplement.  We found out it had a high dosage of aspartame in it for the flavor. 
As I started studying about aspartame it was alarming.......in studies they found it caused tumors in animals, and for humans it caused such things as gastro-intestinal distress, allergies, headaches, anxiety, irritability, depression, insomnia, dizziness, fatigue and seizures.
He threw away the rest of the Gold Standard Whey protein powder!  Not all powders are produced the same.  It would be a good idea to educate yourself on what is in the products you buy.  Aspartame is in anything diet for a sweetener.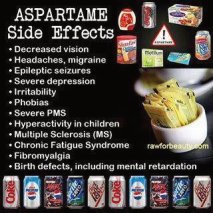 My wish for you is that you will educate yourself and avoid the harmful fillers in your food as much as possible.  Organic fruits and vegetables are best!
Pennie

/