Shopping Cart
Your Cart is Empty
There was an error with PayPal
Click here to try again
Thank you for your business!
You should be receiving an order confirmation from Paypal shortly.
Exit Shopping Cart
| | |
| --- | --- |
| Posted on March 31, 2014 at 8:42 PM | |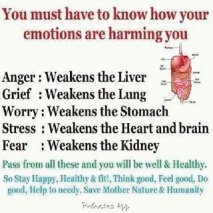 EMOTION ADDICTION
By Vern A. Cox (28 years as a pychotherapist)
"Whenever we feel an emotion, our body spurts out hormones, neurotransmitters, and brain chemicals.  When we spend a lot of time in a certain emotion, our bodies become accustomed to this particular chemical bath.  If our bodies aren't experiencing this familiar set of chemicals, we become uncomfortable and will even suffer withdrawal symptoms.  Thus, we can literally and physically become 'addicted' to anger, fear, depression or even JOY!  It's a choice…"
We know from brain research that all healing in the body is regulated by the brain. This has repeatedly been confirmed by many studies, including those on antidepressant drugs, which have consistently failed to outperform the placebo. What's so encouraging about all this is that we are in charge of our brain. The brain carries out our instructions in the form of beliefs and expectations, positive and negative, conscious and subconscious. In one expression, we are what we believe. So, perhaps, it's now time to change the way we think about the power we have over our own healing ability.
Article Source:
http://EzineArticles.com/6106287
I once saw a live ultrasound image where a cancerous bladder tumor, the size of a grapefruit, completely disintegrated and vanished during a 15-second sound-energy-healing session by a group of Chinese Qigong masters. Of course, without the patient's hopeful and receptive expectation that healing would occur, nothing would happen. Nobody can enter your home as long as you keep the door closed.
Article Source:
http://EzineArticles.com/6106287
The mind/body/spirit triad connection is clearly demonstrated in the now thousands of cancer patients who experience spontaneous remissions of their cancers. Research has shown that the size of a tumor can be reduced dramatically within a few hours of holistic health treatment, when the patient is highly motivated by personal development. Perceiving a spiritual purpose in the disease that affects them, can also be enough to achieve remission.
Article Source:
http://EzineArticles.com/6106287
"Men and women are not prisoners of fate, but
only prisoners of their own minds. - Franklin D. Roosevelt
YOUR BODY BELIEVES EVERY WORD YOU SAY
By Barbara Hoberman Levine
 Being responsible for your health does not mean blaming yourself.  Being responsible does mean accepting yourself and then doing what's appropriate to help yourself – be it taking medicine or acting in new ways."
"We face many choices in the course of a lifetime.  We may not always be able to choose our circumstances.  But we have freedom to choose how we feel about those circumstances." 
"Thinking and speaking like a victim discourages healing.  You change your experience by first recognizing the role your emotions, thoughts, and speech play in inducing disease.  Your body's innate wisdom knows how to heal itself."
"Fear acts as a magnet for negative experiences.  Focusing too much attention on avoiding something really puts energy into what you don't want."
"Words are mental things which we embody with meaning.  If our words and thoughts can make us ill, they can also make us well."
My wish for you is for you to have the Happiest Ever After Possible!  I know you can do it!
Pennie

Categories: Depression, Emotional Release, Energy Healing, Happiness, Health, High Energy Aids
/